The Permanent Solution for Missing or unrepairable Teeth.
Missing or damaged teeth can have a significant impact on your daily life, affecting your speech, eating, and self-esteem.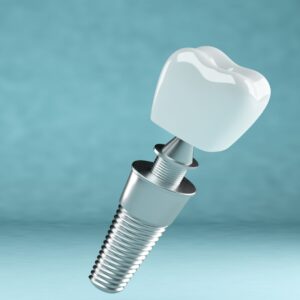 Dental implants are an ideal solution for replacing missing teeth.
They mimic natural teeth in function, feel and appearance and unlike other tooth replacement alternatives, do not rely on adjacent teeth, metal clasps or adhesive gel for support. Due to their increased structural strength and permanent nature, dental implants can be an excellent alternative for some patients with uncomfortable dentures.
The process starts with a titanium implant that takes the place of the tooth root and is securely placed inside the jaw where it fuses with the bone. Once the implant has integrated into the bone (this normally takes about 3 months), a tooth crown is attached on top of the implant.
The crown is the part of the tooth you will see. It is made to fit in perfectly with your existing teeth, both in shape and colour. The finished result is a strong tooth which you can use just like any other; eat/chew, play sport, smile all with confidence.
Want to find out more? Book a Dental Implant Consultation Today.